---
Professional Sequences on a DIY Budget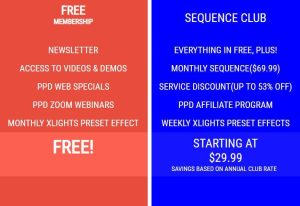 ---
$49.99 for the first month and then 39.99 every month after!
♦Save $10 a month when you pay annually (Saving $120 in 12 months)
◊Pay for a year and receive sequences valued at $69.99 for $29.99 a month!
---
The Only Club that Pays for Itself!  Free Original Sequence Programmed by the Pros to take your Display to the Next Level.  PPD Affiliate Program & Service Discounts up to 53% off.  Weekly xLights Preset Effects Download
---
The PPD Sequence Club
 *Includes all of the above benefits from the FREE Members section, PLUS!
*Free Original xLights Sequence!
Each month the PPD Club Members will receive  one free Original WHOLE HOUSE sequence (extra tree sequences not included), valued at $69.99 and UP.   On the first day of the month, they will be available for download.  Members must log-in and add the sequence to their cart.  After clicking on "pay", they will find the sequence has been discounted to FREE and the download link will be provided.  EASY!
*Love the Original but need the PRO Layout
We will give you $20 off and you can receive the upgraded version for $10
*Weekly xLights Preset Effects Download
Begin building a preset effects library.   There will be a different multi-layer preset available for download in the PPD Sequence Club area.  Use these effects in your own sequences or, dissect them to master on your own.  Save them and begin building a library of effects you can begin using right away!
*PPD Affiliate Program
PPD Affiliates have been very generous since the creation of the Club service.  Many vendors offer PPD Club members discounts on items, orders, and services.  When we receive these special offers, we pass them onto the Club members!
*Service Discounts
With the PPD Sequence Club you will receive up to 53% off services found here.  Stuck in the middle of your setup and need help now?  Problems making your huge display work the right way?  The lighting community as a whole has helped many people get their displays up and running.  However, what happens when you don't get the answers you need?  When you don't have time to waste and need to connect now with the Pros, PPD is here for you.
* PPD Sequence Club automatically bills your PayPal account MONTHLY OR ANNUALLY .
* You may cancel your subscription at any time
* No refunds after canceling any PPD Membership
**The "Save $30 off PPD Club Now Sale" and the "Memorial Day Sale" is only valid for new customers the first month.  Regular prices apply after 30 days for monthly and after a year for annual memberships.