This page discusses the Differences between Pro and Original PPD Layouts
Both layouts are setup to work with group sequencing.  Your needs may vary depending on how many props you have in your display.  If you're just starting out, our Original Layout is designed for a show with a much smaller footprint.  The Pro Layout was designed with a much larger displays with many more props and levels of programming.
Our Original Layout has 16 groups for us to sequence between, a spinner, full matrix, full mega tree, and mega tree star.
Our main groups in the Original Layout include:
Snowflakes
Icicles
Upper and Lower Roof Lines
All Roof Lines
House Verticals
Windows and Doors
Other Verticals
Mini Trees
Stars on Trees
Arches
The Pro Layout includes all the same groups/models as the Original Layout.  We add an additional 20 groups more. Here are the models we added to the Pro Layout that make it different from the Original Layout:
Pixel poles
Exploding stars
Big and small spinner with sub models
Star Wreath on the door with sub models
HD snowflake (currently the Boscoyo Ice Queen) with sub model programming
Gutter outline pixels
Icicles separate from the gutters
Yard Boarder
HD PPD Wreath with 11 sub model groups
We increased the size of the Mega Tree to 32x100 pixels: Shows same effects from Original Layout at a higher density
We added a standard size matrix panel on the garage with 50x24 pixels
Because of the extra props, sub models, and groups added into the Pro Layout; there is a whole lot more programming included that you won't find in the Original layout version.  Sometimes we have additional, sold separately sequences, we display on the smaller tree and garage matrix.  Every sequence (Original and Pro) will always includes a full matrix and mega tree programming.  If the garage or small tree sequencing in the Pro Layout is different from their larger version, those are sold separately.
We have a video that walks you thought the Pro Layout you can view.  Click Here!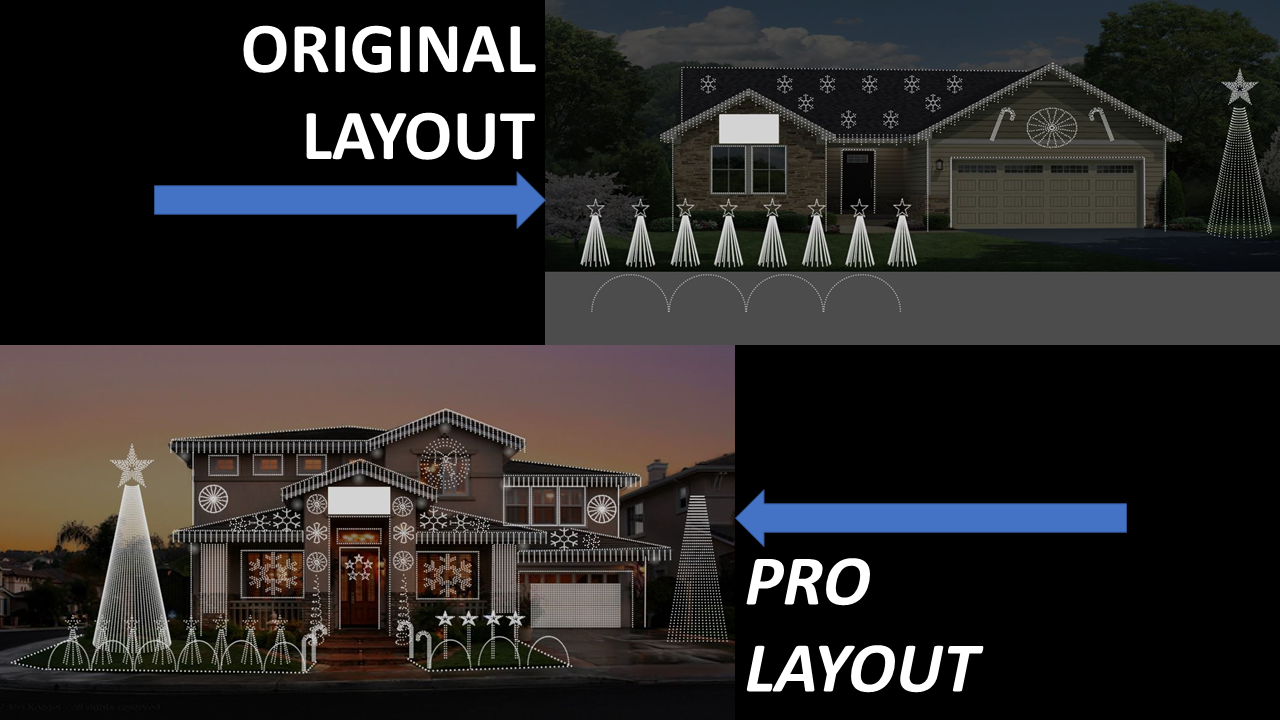 Pro Layout